Big Basin once had the largest and most scenic stand of redwoods in the Bay Area, but since the August 2020 CZU Lightning Fire it no longer looks like an old-growth park. In fact, it doesn't even look like a natural landscape.
The park re-opened in July 2022, and about 75 cars per day are allowed in by reservation only. Most trails are still closed, but newly restored trails are opening every few months. There are no campgrounds yet.
Almost everything that can be seen in the park has been severely damaged by crown fires. The forest canopy has been burned away, leaving the ground in full and rather harsh sunlight. Most of the redwoods have survived, but they look like green pipe cleaners, with their branches gone and re-sprouted foliage covering their trunks. Only some small second-growth areas in the bottoms of ravines escaped the fire with minimal damage.
The damage was so extensive that the old look and feel of the park is entirely gone. It doesn't feel like Big Basin was transformed by the fire; it feels like it was replaced by a completely different park. Judging from how much regeneration there's been in the last three years, it will take decades for the park to recover its attractive old-growth appearance — if it ever does. Without its canopy, the forest is so much hotter and drier now that it seems like large areas might eventually transition to scrub.
The destruction in Big Basin isn't normal for a fire in the redwoods; it's literally on a different level than previous fires. Major fires burned through Humboldt Redwoods in 2003, Montgomery Woods in 2008, and Pfeiffer Big Sur twice in 2008, but in each case the fire mainly burned at ground level. With the canopy intact, these parks recovered so rapidly that it's now difficult to tell that there was a fire at all.
On the positive side, Big Basin's redwoods were the only trees to survive in many places, so if the forest can recover, it will end up much more of a pure redwood forest than before. Fire really does give redwoods an advantage over other trees.
Hikes

---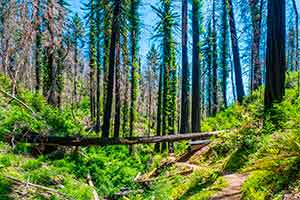 ★
The Meteor Trail
Length 5.2 miles · Climbing 870 feet
The Meteor Trail climbs through a redwood-filled ravine to Middle Ridge. It was one of Big Basin's most scenic trails before the fire.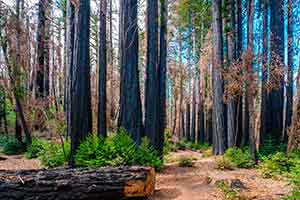 ★
The Dool Trail
Length 2.7 miles · Climbing 500 feet
The Dool Trail climbs into redwood uplands that were much more heavily affected by the CZU Fire than the lowlands near the parking lot.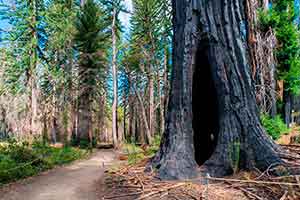 ★
Redwood Loop Nature Trail
Length 0.6 miles · Climbing 10 feet
The centerpiece of Big Basin, this trail winds through a flat with the park's oldest and largest trees.