The Los Padres National Forest includes two separate regions, one on the Big Sur Coast and another in Southern California. The Big Sur section, which consists of the Ventana Wilderness and the Silver Peak Wilderness, has an extensive trail network with many scenic and remote redwood stands. Most of the trails are only maintained by passing hikers, and many trails are faint, heavily overgrown, or badly eroded. Ticks are abundant in this area and during the rainy season it's not unusual to pick up 5 or 6 ticks from brushing against a single plant. Poison oak is everywhere and after hiking I often find indelible black spots of urushiol oil on my pants.
All the maps of Big Sur that I've seen are unreliable; some of the trails shown are impassible, while other trails exist that are not shown on the maps. Consult the Ventana Wild website's forums and trail condition reports before beginning any hike in Los Padres.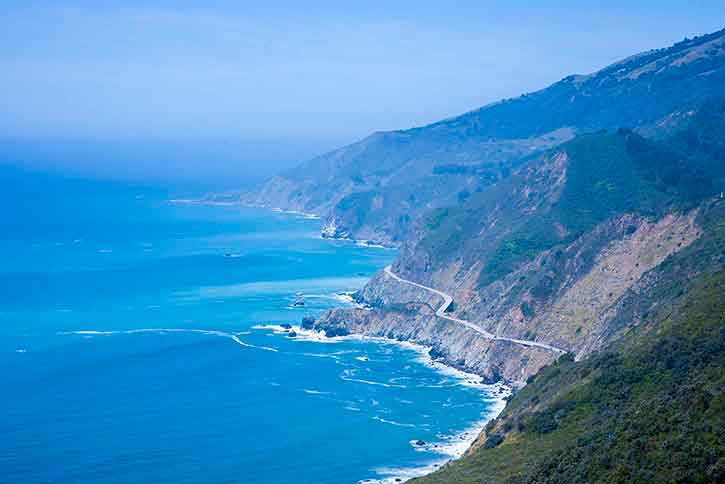 Old-growth redwood hikes

---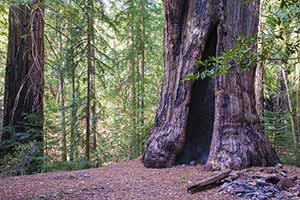 ★★★★
The Kirk Creek Trail
Length 10.8 mi · Climbing 2360 ft
My favorite trail in Big Sur, although it's usually in poor condition. Several very attractive redwood groves provide a nice contrast to spectacular ocean vistas and impressive wildflower displays.
The southernmost redwoods

---
The world's southernmost naturally-occurring redwoods are in the Southern Redwood Botanical Area, within the Silver Peak Wilderness. The site isn't marked, is not open to the public, and is easily overlooked. Just north of the Salmon Creek trailhead, keep an eye out and you may see a small redwood-filled canyon. The tops of the redwoods alongside the road have died off, but the redwoods extend inland in a thin line along the canyon bottom and the trees further in appear to be healthy. There is no trail or obvious route into the redwoods. Somewhat surprisingly, this canyon, like all the coastal canyons to the north, seems to have an abundance of redwoods, while one canyon to the south the redwoods are completely absent.
Just a few hundred yards to the north, at a hairpin turn in Highway One, is another canyon with the more substantial Nathaniel Owens Memorial Redwood Grove. A trail leads a short distance into the grove, ending at a rocky little cascade under small redwoods. The hillsides are carpeted with redwood sorrel. The grove doesn't appear to be old growth.