★
The River Trail
An easy hike along the Big Sur River
---
Length 4.1 mi · Climbing 140 ft
The River Trail is one of the few easy hikes in Big Sur. The trail runs through the Big Sur Valley, through meadows with views of the Santa Lucia Mountains and also through a few of Molera's tiny redwood groves. This route requires fording the Big Sur River several times, so it can only be hiked in summertime. In late summer, at its lowest, the river is only about 12 inches deep.
The hike is somewhat spoiled by ever-present noise from Highway One, horse manure on the trail, and poison oak everywhere. The suggested route avoids the worst of these problems by staying away from the rather unpleasant Bobcat Trail, but it's still not nearly as scenic or enjoyable as the more challenging Ridge Trail.
Start at the main parking lot. Walk past the entrance kiosk and immediately turn right to pass under the Molera Horse Tours sign. At the ranch house, turn right onto a dirt road to cross the Big Sur River on a seasonal footbridge. After just a few steps, turn right onto the River Trail.
The trail skirts a large and scenic meadow, one of the highlights of the trip, then climbs slightly to an intersection with the Hidden Trail. Stay to your right at the next two trail intersections, and you'll climb a bit up a hillside with a few redwoods before descending to a creek crossing at a rocky beach. Ford the creek to the small beach on the opposite side, which seems to be a popular picnic spot. From here you'll hike a short loop.
Follow the trail as it passes through a redwood grove alongside Highway One, then loops around a meadow. To your left, an unmarked trail leads across the river to a little-used, unmaintained loop trail. This trail has more redwoods than any other part of the park, but it's a difficult hike through overgrown, poison oak-infested vegetation so I don't recommend it.
Instead, continue around the meadow. There are some nice views of the mountains rising above the valley floor. Take the first trail on your left trail and wade through the Big Sur River. The short segment of trail from here to the next river crossing undulates through several attractive redwood groves. There are a few stumps and the groves lack the usual old growth appearance, but it's possible that the groves are actually old growth. A low hum of traffic noise is audible.
The trail passes a particularly large redwood and then descends to a muddy creek crossing. Cross to the small beach on the opposite side, closing the short loop, and then immediately re-cross to the second, rocky beach on your left. From here you can re-trace your route, back to the Molera Ranch House and the parking lot.
---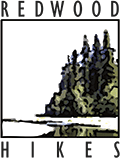 © 2006 David Baselt