Best sites

---
Site 109 is a huge site that's set well back from the road, is well-separated from neighboring sites, and offers a lot of privacy. The site is surrounded by large redwood stumps. You don't have to climb to get to it, and it has a nice big parking area.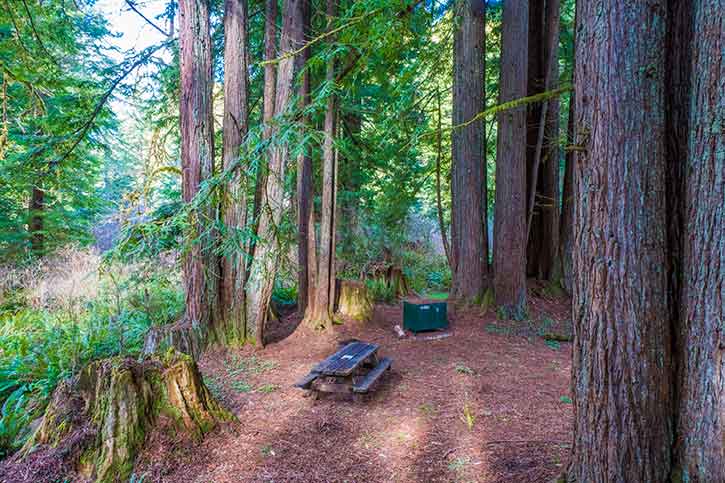 Sites in the 90s that are on the outside of the loop road (especially 90, 95, 98, and 99) tend to be pretty nice and offer good privacy. These sites are tucked away in the woods on a hillside, so you have to climb a little 10-yard-long access trail to get to them.
94 is a little different; it's in a little clearing in 6-foot-high scrub, so it's very private, and there's no climb, but it's not very scenic, since all you can see is the scrub.
92, 93, 102, and 104 are also good, but maybe not quite as nice.
Sites 87 and 88 require a 50-yard walk-in with a bit of a climb, so don't stay here if you want your tent to be right next to your car. The short walk pays off in a really nice setting, though; the sites are set back from the road in impressively dense second-growth redwoods. Site 87 is the more scenic of the two, but is a little lacking in privacy since site 88 looks down onto it.
Site 39 stands out because it's on a cul-de-sac next to the river and under some redwoods, but there are a lot of other sites nearby.
Sites in the teens and 20s on the outside of the loop road tend to be rather small and right on the road.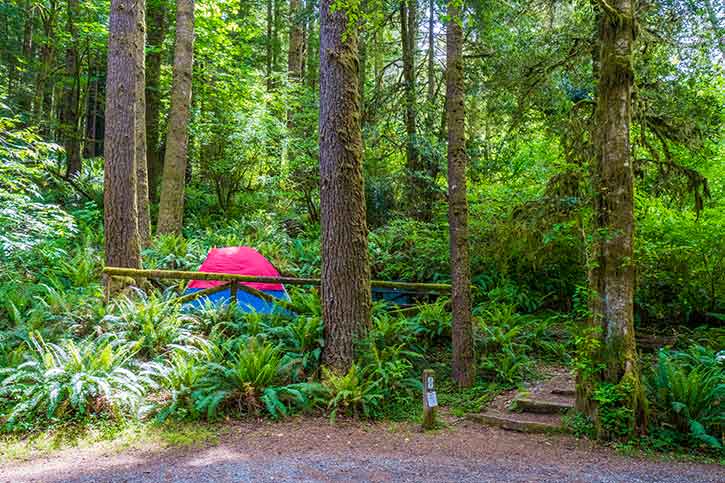 Otherwise the sites are pretty uniformly nice; the sites around the edge of the campground are maybe a little nicer and more private than the ones in the middle.
Hike/bike site

---
Like most coastal state park campgrounds, Mill Creek has a hike/bike site for long-distance cyclists that's available on a first-come, first-served basis only. It only costs $5/person/night, but if other people show up you may have to share the site. You can't bring a car if you stay here; you really have to hike or bike into the campground. The campground is two miles (all downhill) from Highway 101 and it's a 600-foot climb to get back to the highway.
Del Norte Coast Redwoods doesn't have a visitor center, but on weekend evenings a park ranger gives educational talks at the campfire center.
Activities

---
The campground has its own trail loop. Although it runs entirely though heavily-logged redwood forest, the lush woodland is actually pretty scenic.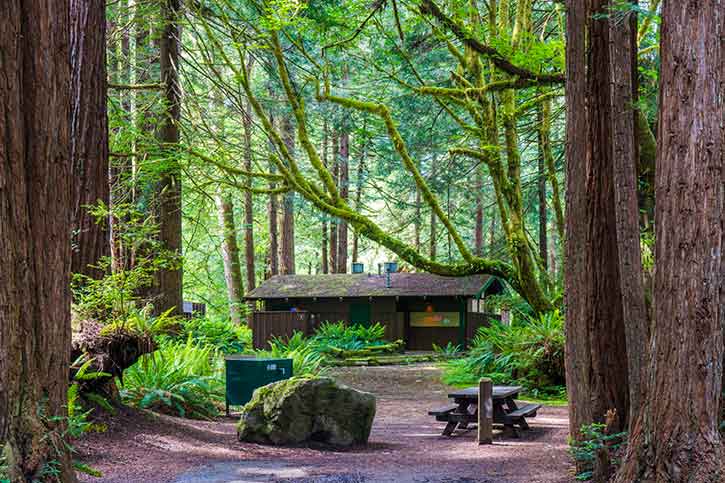 Campground details

---
Mill Creek is mainly intended for tent camping, but RVs up to 28 feet and trailers up to 24 feet are allowed; there are no hookups but there's a dump station and water filling station. Each site has a fire pit, picnic table, and food storage locker.
As at all Redwood National and State Park campgrounds there are strict rules that all food must be stored in the locker, even while you're around; animals in many state parks have completely lost their fear of people and can be shockingly bold about stealing food.
The campground has six ADA sites that can only be reserved by those with a disabled parking placard or license plate. If the sites are not reserved they're available on a first-come, first-served basis.
The campground is only open from May through September. Reservations can be made up to 6 months, but not less than 2 days, before the first night of a stay.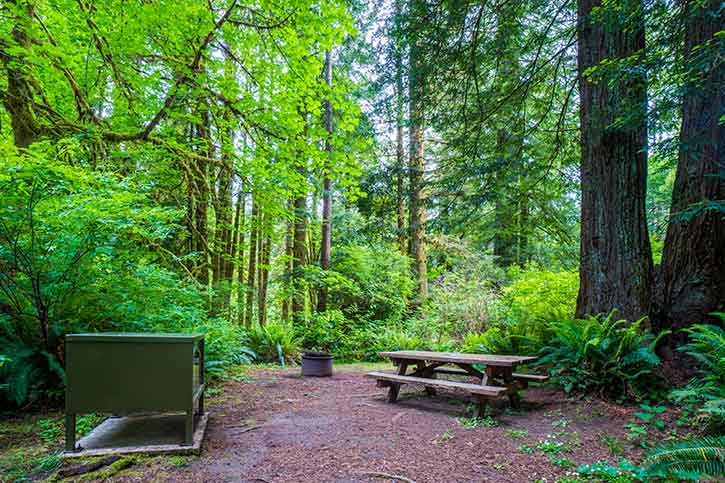 Links

---