★
The Mill Creek Watershed
A 40-square-mile area of second-growth redwoods
---
In 2002, Del Norte Coast Redwoods was dramatically expanded by the addition of the Mill Creek Watershed. This 40-square-mile property was purchased from Stinson Lumber Company to protect Jedediah Smith Redwoods from the detrimental effects of upstream logging. The area was almost entirely clearcut in the 1970s, 80s, and 90s and only a few small old-growth fragments remain.
The watershed has an extensive network of dirt and gravel logging roads, many of which are now being removed. Some of the remaining roads are open to the public for hiking, horseback riding, and mountain biking between 9 am and 5 pm on weekends (if you're not out by 5 pm you'll be locked in).
The state may eventually designate a new trail network (still based on the old logging roads) in addition to building a visitor center and much-needed in-park lodging on the site of the former mill.
Although part of Del Norte Coast Redwoods State Park, the Mill Creek Watershed is completely different from the rest of the park. It still has the feel of recently-logged timberland, with a tree canopy that doesn't close over most of the roads, giving them a bright, open appearance. Although there aren't any noteworthy sights, it's actually quite a pleasant place to go for a walk, with miles of quiet, green, well-maintained roads. There's an occasional scenic view, and the roads make for easy hiking, biking, or riding.
It's a good idea to continuously record a track with a GPS unit and also use a good map when hiking or riding in the Mill Creek Watershed. There are a lot of roads here, they all look the same, and they go on for miles without ever arriving anywhere. Fortunately the timber company road signs are still up, but there are few park signs to keep you on the trail or direct you to a destination. If you get lost here, it could be very difficult to find your way out.
---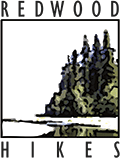 © 2008, 2021 David Baselt