★★
San Pablo Ridge
---
Length 5.8 mi · Climbing 1100 ft
This loop starts on an old paved road through Wildcat Canyon and then climbs to a rather lumpy ridge with nice views of Richmond and El Sobrante. The lower-elevation parts are OK, but the views from the ridge ridge really makes this hike.
Start at the Alvarado Staging Area and follow Wildcat Creek Trail uphill. Although it doesn't have any especially remarkable scenery, the relatively easy grades, quiet surroundings, and lack of mud in winter (at least for the first two miles) make it the park's most popular trail. At first the road is a wide paved road with the double yellow line in the middle still visible in places, but it eventually narrows to a gravel road. The road runs alongside woods, but is mostly exposed to the sun.
Turn left onto the Mezue Trail. There are actually two dirt roads right next to each other; the first one has a locked gate, so take the second. In winter the Mezue Trail has a 100-yard section of deep mud with scrub on both sides that prevents you from going around, so if there's any mud around, continue a few yards further and take the Leonard Trail instead; it's slightly little less scenic but doesn't get as muddy.
The scenery rapidly improves as the Mezue Trail climbs an open hillside with some nice views of Wildcat Canyon and, further up, of Richmond.
At the top of the ridge, turn left onto the San Pablo Ridge Trail, the best part of the hike. The trail goes over a series of knolls with fine views of the surrounding wide-open grassy hills and the suburbs below.
The trail then makes an unpleasantly steep descent to the Belgum Trail. This section can be impassible in winter because of how muddy the steep slope gets; most people take an unofficial trail that follows the ridgeline, although it's even steeper.
The Belgum Trail climbs a little before descending back to the Wildcat Canyon Trail. It passes the Grande Vista Sanitorium site; an odd-looking assortment of non-native trees is all that remains of the sanitorium.
Alternate route: The Conlon Trail (9.0 mi, 1340 ft)

---
For a longer loop skip the Mezue Trail and continue to the Conlon Trail. This trail climbs along a ridge that's even more scenic than the Mezue Trail, with a nice remote feel and sweeping views of Wildcat Canyon. At the high point there are some views of San Francisco and the bay. Return to the top of the Mezue Trail on a nice, easy section of the paved Nimitz Trail.
---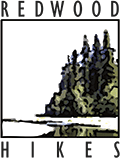 © 2018, 2023 David Baselt