★★
The Sindicich Lagoons
---
Length 5.7 mi · Climbing 760 ft
The Sindicich Lagoons are one of Briones' most popular destinations. The lagoons are on a plateau on Briones Crest, in an open, rolling hilltop meadow with views of the Carquinez Strait. Since they're in the middle of the park the trails are quiet and isolated, but on nice spring weekends expect to encounter a group of hikers every few minutes.
This area is very popular between February and June, when the grass is green, the park is at its most attractive, and the weather is still cool. In contrast, almost no one comes here in summer, mainly because of the heat but also because the loop is a lot less attractive; grazing and the proliferation of various thistles gives Briones' central basin and ridgetops an ugly, blotchy look in summer. Outside the central basin the landscape is a lot more attractive.
The lagoons can be reached from either the Bear Creek Staging Area to the south or the Alhambra Creek Staging Area to the north. Both routes are about the same length and difficulty, but the Bear Creek route is more scenic, since the landscapes to the south are more open.
Start at the parking lot off of Bear Creek Road; park in the first lot that you come to. Take Abrigo Valley Road, which climbs gently through a wide valley with open meadows.
If it's not muddy turn onto the obsucure Santos Trail, a little-used road that proceeds through a scenic valley before climbing up to the Briones Crest Trail.
The Briones Crest Trail has some ups and downs but does offer some nice views over the park. As the trail curves around, even better views over the Carquinez Strait open up. The trail then descends to an attractive, open plateau of rolling hills where the lagoons are found. A sign explains that the lagoons were naturally formed, but have been enlarged to serve as stock ponds. There's a little distant traffic noise from Walnut Creek.
This area is heavily grazed, and the short grass is somewhat less attractive than the lusher-looking grass in less heavily-grazed parts of the park.
We leave the Briones Crest Trail here, but a lot of people continue on for another mile to the Table Top Trail, where there are even better views.
Return on Old Briones Road, which offers some great views of the Bear Creek valley as it descends. In winter and spring there may be a few pockets of mud in the shady areas.
---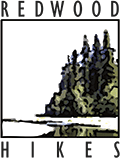 © 2018, 2023 David Baselt