Tucked away in an partly-wooded valley south of Highway 680, Sunol feels pretty remote, yet it's just 20 minutes from Fremont or Pleasanton. The popular park has a reputation for being one of the most challenging but also most scenic parks in the East Bay.
The park has become increasingly popular over the past few years as a more remote alternative to Mission Peak. On spring weekends there's a line of cars waiting to get in at the entrance kiosk and most of the trails throughout the park are pretty busy. Fortunately, the park has expanded the parking areas, so there's usually plenty of parking.
The park has some well-maintained short hiking loops, as well as the 30-mile-long Ohlone Wilderness Regional Trail, which connects with Mission Peak to the west and Del Valle to the east. There are some really nice backpacking camps on this trail just outside the park, about 4 miles from the Camp Ohlone Road trailhead.
The park is best in the spring and fall. Most of the park's trails are on south-facing hillsides that get really hot on summer afternoons, and although the park is about half covered with oak woodlands, almost all of the trails run through open grassland.
Oddly enough for a place called a "wilderness", cows graze throughout the park. Fortunately the park doesn't have the trashed, worn-out appearance that plagues some of the more heavily-grazed East Bay parks.
Hikes

---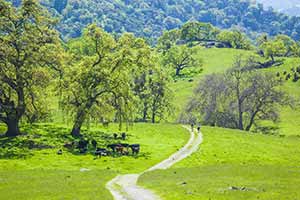 ★★
Flag Hill and Cerro Este
Length 9.6 mi · Climbing 2260 ft
A challenging loop with the park's best views as well as its most popular destination, the boulder-lined gorge known as Little Yosemite.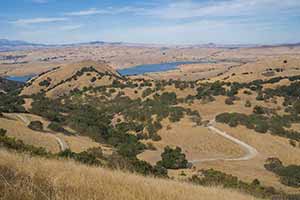 ★
Maguire Peaks
Length 5.4 mi · Climbing 1200 ft
A loop off Welch Creek Road featuring some unique views of the San Antonio Reservoir and the rolling hills oak-dotted hills that surround it.