Southern Humboldt County
and northern Mendocino County
---
Acquired in 1999, Headwaters is the newest redwood park or reserve. Visitors are not allowed into the main old-growth groves, but two rather unexciting trails allow glimpses of old growth fragments at the edges of the property.
These small parks on the Van Duzen River are well off the beaten path. The small but superb Cheatham Grove is the highlight of this region and is where the steadicam shots from Return of the Jedi were filmed.
Home to the Avenue of the Giants and the world's largest contiguous old-growth redwood forest, Humboldt Redwoods is the quintessential redwood park. Although heavily affected by logging and development, it's still a must-see for any visitor to the redwoods.
This little-known park has three small old-growth groves next to the town of Redway but doesn't offer a lot of old-growth hiking.
The centerpiece of this park is a small but magnificent lowland redwood grove. Although Highway 101 runs right through the middle of the grove, and a lot of its redwoods have apparently been cut down to make room for what is now a parking lot, it's still pretty impressive.
This park is perhaps not as appealing as it once was since its lake is usually drained and a four-lane highway goes right through the campground. There is, however, a trail with a few old-growth redwoods.
This remote park features the Lost Coast Trail, which is great backpacking destination. It's not really a redwood park, but it does have a few small old-growth redwood groves.
If you're driving north, this small lowland grove by the side of Highway 101 is the first stand of redwoods that you see after entering redwood country. There's a deep swimming hole in the Eel River, but no trails.
This park has a small and not very impressive old-growth redwood upland grove a short distance from the highway. There's a privately-owned Drive-Thru Tree just south of the park.
The privately-owned Underwood Park in Leggett has a small old-growth grove that features the most photogenic of the remaining drive-through redwoods.
---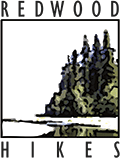 © 2005–17 David Baselt