Albee Creek Campground
---
Car camping sites $35/night + $8
This small, quiet campground is way out on Mattole Road just past the end of the old-growth redwoods. Most of the sites are in the deep shade of small second-growth redwoods, while a few sites are at the edge of a sunny meadow with nice views of the redwood-carpeted hills. There's very little traffic noise, just an occasional car or truck driving by on Mattole Road. It's a pretty sweet campground.
The sites are well-separated, but none of them are really private since the woods are remarkably open, without any understory vegetation between the sites. The entire campground is on a hillside, so most of the campsites aren't that level, except the ADA sites, which are noticably better-groomed (the ADA sites can only be reserved by people who have a disabled placard or license plate; unreserved sites are available on a first-come, first-served basis).
Like all Humboldt Redwoods campgrounds, the campground and its facilities are clean and well-maintained.
The campground is a little out of the way; it's at least a 15-minute drive on narrow, winding Mattole Road (one of the world's most impressive redwood drives) from the Avenue of the Giants. Large RVs may have trouble with this road. Depending on how recently it's been repaved, it can be a smooth, easy drive or a continuous string of potholes. In either case the locals drive at breakneck speeds down this road.
Nonetheless, the location is ideal for hiking; it's just a five-minute walk to some of the park's most spectacular old-growth redwoods and its best all-day hike, the Bull Creek Flats loop. Another trail leads a few yards through the meadow to Bull Creek.
RVs up to 33 feet and trailers up to 24 feet can be accommodated, but there are no hookups or dump station. There are 3 ADA sites that can only be reserved if you have a disabled placard or license plate; any unreserved ADA sites are available on a first-come, first-serve basis.
The campground is only open from May through mid-October and is the most likely of Humboldt Redwoods' campgrounds to be full.
Best sites

---
First choice: sites 40 and 39 are in a nice private location on a side road, under the redwoods and near the creek. Site 40 is the best; site 39 is slightly less private since it's between two other sites.
Second choice: sites 1 and 2 aren't quite as private, but are pretty nice. Site 1 is at the edge of the meadow; it's out in the sun in the afternoon but might be nice if you want to see the stars at night. Site 2 is under some redwoods and might be better if you're planning on hot afternoons. Both are right next to the campfire center.
Third choice: Site 25, at the edge of the meadow, is the best of the sites on the main loop; again, there's no shade in the afternoon.
Links

---
Make reservations through ReserveCalifornia; search for Humboldt Redwoods. There isn't any obvious difference between "campsites" and "tent campsites", but campsites are supposed to accommodate a small RV while tent campsites are for tents only.
---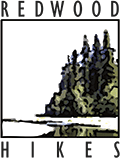 © 2018 David Baselt