Grasshopper Trail Camp
---
Open all year · $5/person/night
This backpacking camp is conveniently situated on the Grasshopper Trail just below Grasshopper Peak. It's a very quiet, remote camp in a nice location under a big spruce tree at the edge of a meadow. There's no view from the camp itself, but a few feet away there's a bit of a view over the meadow.
The camp has an outhouse (with the door broken off its hinges), a bear box, and one or two good, level tent sites, with room for more on slightly sloping ground. There doesn't seem to be any water nearby.
Like all of Humboldt's trail camps, Grasshopper Camp is normally very quiet. However, the Grasshopper Peak Redwoods Run passes through at the beginning of June; in fact, the camp is used as an aid station. The Cuneo Creek Endurance Ride might pass through in mid-September.
There are no reservations; just go to any of the Humboldt Redwoods drive-in campgrounds (Albee Creek in summer or Burlington in winter) on the first day of your stay to buy a permit. The fee is $5 per per person per night, and up to six people can stay at the camp. You don't necessarily get the camp to yourself; other groups can show up and set up camp as long as there are less than six people in all.
Fires are not allowed.
---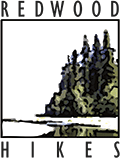 © 2020 David Baselt