Hanson Ridge Trail Camp
---
Open all year · $5/person/night
Unlike the other Humboldt Redwoods trail camps, the remote Hanson Ridge camp is well off the main trail, making it one of the most quiet and private places to camp in the park. It doesn't seem to get used or maintained very often.
The camp is a 6.5 mile hike from Mattole Road, 2.2 miles past Whiskey Flat Trail Camp and 4.2 miles from Grasshopper Trail Camp. One of the signs near the bottom of Grieg Road erroneously refers to this camp as the Hanson River Trail Camp.
The camp is so off the beaten path that it's rather difficult to find. The turnoff to the camp is clear and well-marked, but the trail completely disappears as it begins to descend through an open meadow. When you see the outhouse at the bottom of the meadow, don't follow the animal track that contours along the hillside, just cut through the grass directly toward the outhouse. Just below the outhouse, make a sharp right at the edge of the meadow. A faint trail leads into the woods to the campsite.
Just before the campsite, a faint trail branches off to the left and descends to ravine with a small creek that flows in winter only. There's a tank that's supposed to collect untreated water from the creek, but it's smashed, meaning there's no water at the camp unless it's rained recently.
The campsite itself is pretty nice. It's in a somewhat sheltered location in the woods below Hanson Ridge. In winter, the southwest-facing slope doesn't seem as gloomy as the camps on the north side of Grasshopper Mountain. The campsite doesn't have any views at all, though; you have to climb back up to Hanson Ridge Road to get any views, and even those are just of the ridge to the west. Unusually, the site doesn't have a bear box. Fires aren't allowed in the camp.
The camp can't be reserved. Go to any of the Humboldt Redwoods drive-in campgrounds (Albee Creek in summer or Burlington in winter) on the first day of your stay to buy a permit. The fee is $5 per per person per night, and up to six people can stay at the camp. You don't necessarily get the camp to yourself; other groups can show up and set up camp as long as there are less than six people in all.
---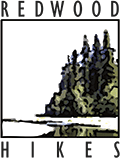 © 2020 David Baselt