Hidden Springs Campground
---
Car camping sites $35/night + $8
Reservations required

---
Because of the pandemic, as of April 2021, you must now have a reservation to stay at the campground. There are no longer any first-come, first-served sites.
Background

---
Hidden Springs is a large, sprawling suburb of a campground: it's very spread out and offers lots of privacy, but it's not centrally located so you have to drive to visit the redwood groves.
The campground, which dates to the 1950s, is mainly intended for tent camping; you're supposed to drive up to your site and pitch a tent next to your car. RVs of up to 33 feet and trailers up to 24 feet are allowed (there are designated RV sites for them with slightly longer pullouts), but there aren't any hookups.
There aren't any any big redwoods here; it's all unexceptional second-growth redwood uplands, with small redwoods mixed with tanoak and other small trees. Most areas are brightly lit due to the small size of the trees and the low density of redwoods. Dense huckleberry shrubs do a great job screening the sites from each other, making this the most private campground in Humboldt Redwoods.
The campground is clean and well-maintained, with newer bathrooms and pay showers. Bring lots of quarters as 4 quarters get you only 2 minutes. Every site has a picnic table, food locker, and fire ring. The campground is very strict that all food be kept in the locker at all times unless you're actually eating; this is mainly to discourage birds from stealing food.
Only the northern half of the campground can be reserved. The entire southern half (sites 87–141) is first-come, first served for stays of up to 5 days. In addition there are a lot of ADA sites which can only be reserved by those with handicapped license plates or placards. Any unreserved ADA sites are available first-come, first-served.
The campground is usually pretty quiet and feels much less busy than Humboldt Redwoods' other drive-in campgrounds. During the day there's some traffic noise from the Avenue of the Giants throughout the campground, but at night there aren't a lot of cars on the Avenue. The sites further from the Avenue, especially 56–76, get noticably less traffic noise. Sites 129–141 get the distant whoosh of traffic from Highway 101.
There are sometimes mosquitoes, but thanks to the drier upland environment they aren't especially bad for a redwood campground.
The campfire center, which is in an attractive second-growth redwood grove, has ranger talks every night during the summer.
Two trails leave from the campground. The Hidden Springs Beach Trail briefly passes through a strip of pretty impressive redwoods to reach a swimming area on the Eel River. The Williams Grove Trail runs through second-growth redwoods for 3 miles to reach the old-growth Williams Grove. You're much better off just driving to a redwood grove, so that you can spend more time in the old growth.
Hidden Springs is only open in summer, from May through Labor Day.
Best reservable sites

---
Sites 56–78 are all pretty good, but of these I like site 66 the best since it's the most quiet and isolated. The scenery might be kind of mundane, but I like the feeling of being tucked into the woods. Site 67 is even more isolated but doesn't have a lot of level ground.
Sites 31 and 33 are also tucked into the woods at the end of level 10-yard trails. Site 31 has more space while site 33 has more light. The only problem is that the two sites are right next to each other.
Site 152 is in a redwood-filled gully. It's less expansive than site 136, but I like the redwoods. It's kind of far from the showers though.
Best first-come, first-served sites

---
Site 115 is on a hillside; you have to climb up a short (5 yards) but steep access trail to reach it. There are actually quite a few of these elevated sites, but site 115 is the highest. It kind of feels like being in a treehouse. There's lots of privacy.
Site 136 has the best scenery, since it's in the deep shade of dense second-growth redwoods. The redwood grove is very open and the site has lots of space. There's some traffic noise from Highway 101.
Links

---
Make reservations through ReserveCalifornia; search for Humboldt Redwoods. There isn't any obvious difference between "campsites" and "tent campsites", but campsites are supposed to accommodate a small RV while tent campsites are for tents only.
---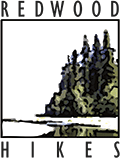 © 2019 David Baselt