★★★★
Humboldt Redwoods State Park
---
Featuring the Avenue of the Giants
For the sheer size of its trees, no redwood park can beat Humboldt Redwoods. The world's densest and most impressive stands of big trees are found here, along the Eel River and Bull Creek. Many of the most iconic images of the redwood forest come from Humboldt Redwoods — roads meandering through tall narrow canyons formed from huge trees, dark cathedral-like groves, plush carpets of redwood sorrel.
Surprisingly, these monster redwoods grow well inland, in an environment that's much drier than the other Humboldt County redwood parks. A 3,000-foot-tall ridge to the west shields the park from ocean breezes, making for hot and dry summer days, but a tendril of ocean fog creeps south along the Eel River valley most summer nights to sustain the redwoods.
Most of Humboldt Redwoods' old-growth trails are short loops. The Avenue of the Giants in particular is mostly made up of small groves that are right next to the road, although the groves are still pretty spectacular. The only long old-growth hike is the Bull Creek Flats loop.
Despite the limited old-growth hiking, Humboldt Redwoods today is a absolute must-see for anyone interested in redwoods.
Printed trail maps of Humboldt Redwoods

---
There's no cell phone coverage in the main body and north end of the park, even in the towns; only the south end (Miranda and Phillipsville) has cell phone coverage. So to use any web-based maps in the park, you have to download the maps for offline use.
As far as I know, there are only three printed trail maps of the park:
The trail maps on this website are based on the trail map of Humboldt Redwoods State Park from Redwood Hikes Press. This is the most detailed map of the park and is printed on waterproof plastic. Scale 1:25,000, 39 x 26 inches, 2022. $14.95 + tax and shipping if ordered from Redwood Hikes Press.
The Humboldt Redwoods Interpretive Association has a map that can be purchased at the visitor center. An online version can be seen at the Humboldt Redwoods Interpretive Association website. Scale 1:42,000, 25.5 x 22 inches. $4.00 + tax.
The park brochure is available for free at the visitor center. Scale 1:42,000, 17 x 20.75 inches, 2017. Free.
---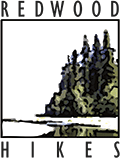 © 2006, 2011, 2018, 2022 David Baselt