Johnson Trail Camp
---
Open all year · $5/person/night
Johnson Trail Camp is about halfway up Grasshopper Mountain, making it a convenient stopover on the way up to the peak and the most popular trail camp in Humboldt Redwoods. It's reached by a five-mile hike on the Grasshopper Multi-Use Trail or a slightly longer but more redwood-intensive hike on the Johnson Camp Trail.
The camp is in a quiet, remote area, in a logged redwood grove just past the edge of the old-growth redwoods. The camp itself is really just a wide spot in a dirt road. There's a single food locker, a spring-fed horse trough, and an outhouse; there aren't any picnic benches and campfires are prohibited.
The camp doesn't have any defined campsites, but most people set up their tent on the little patch of level ground in front of the outhouse. If someone is already there or you just want to be further from the outhouse, look for a faint trail between the food locker and the 'no campfires' sign; it leads a few yards into the woods to a collapsed cabin with a clear flat spot next to it.
To the right of the standing cabin is another faint trail that climbs steeply up a hill to a wooden platform (presumably all that's left of another cabin), but it's not in good enough condition for setting up a tent.
There are no reservations; just go to any of the Humboldt Redwoods drive-in campgrounds (Albee Creek in summer or Burlington in winter) on the first day of your stay to buy a permit. The fee is $5 per per person per night, and up to six people can stay at the camp. You don't necessarily get the camp to yourself; other groups can show up and set up camp as long as there are less than six people in all.
Cabins

---
The camp's most notable feature are four dilapidated cabins. According to Jerry and Gisele Rohde's guidebooks, Johnson Camp was used until the 1950s to produce hand-split redwood products. Such "tie hacker" operations mainly produced railroad ties, but also shingles and grape stakes; they were common in remote areas because they only required hand tools. The cabins are apparently reconstructions of the originals; my guess is that they were built for the camp's opening in 1983.
Today none of the cabins are suitable for sleeping in. Only one is still standing, but it's deteriorating rapidly; it's started leaning and the flooring is about to give way. Two others have collapsed, and almost nothing is left of the fourth.
---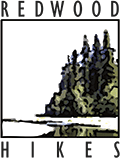 © 2019 David Baselt