Whiskey Flat Trail Camp
---
Open all year · $5/person/night
Located in a small but very attractive old-growth redwood grove, Whiskey Flat is the most scenic of Humboldt Redwoods' backcountry camps. If you're looking for a backpacking camp in the redwoods, and you don't want a lot of people around, this might be the place.
The bottom of the Grasshopper Multi Use Trail is the most obvious parking spot, but overnight parking isn't allowed there.
It's about a four-and-a-half mile hike to the camp on wide fire roads that run through rather mundane redwood uplands. Although Whiskey Flat's redwoods aren't as big as the ones along Bull Creek, it's still quite striking to turn the corner and encounter the lush flat with its dense collection of good-sized trees.
The camp is normally very quiet; only a few people pass by on the road on a typical day. However, the Grasshopper Peak Redwoods Run passes through at the beginning of June; in fact, the camp is used as an aid station. The Cuneo Creek Endurance Ride passes through in mid-September.
There's an outhouse (the latch to the door is broken so the door just swings open), a horse trough, a bear box, and one official campsite. Behind and to the right of the campsite, in a dark, densely wooded area, are another one or two sites where people have clearly camped but that appear to be unofficial.
The flat is sheltered on three sides by the steep slopes of Grasshopper Mountain; in winter it doesn't get any sunshine at all and can be a little damp and gloomy. A small stream flows a few yards up the road, but can't be heard in summer.
The main drawback of Whiskey Flat is that there isn't really a lot to see or do in the area, other than hike up to Grasshopper Mountain.
Reservations are available through Reserve California; search for Humboldt Redwoods. The fee is $5 per per person per night, and up to six people can stay at the camp. You don't necessarily get the camp to yourself; other groups can show up and set up camp as long as there are less than six people in all.
Fires are not allowed.
---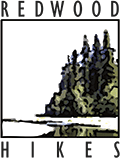 © 2020 David Baselt