★
The Craigs Creek Trail
---
Length 7.7 mi · Climbing 1470 ft
The little-used Craigs Creek Trail in the Six Rivers National Forest rises and falls through an interesting variety of woodland before descending to the confluence of two rivers.
The trail was originally built sometime before the 1890s to support a hydraulic gold mining operation at the mouth of Craigs Creek. Today the trail's location seems a little odd; it's a long walk to a spot that's just a few yards from South Fork Road. The rocky point at the end of the trail is pleasant enough, but there are lots of other places where you can walk down to the river without a long hike. The real scenic payoff of the hike might be the rather lovely final stretch of trail that passes through lush woodland alongside Craigs Creek.
Near the beginning of the trail are what appear to be a few old-growth redwoods. There aren't a lot of them, and they're pretty small, but they're still pretty attractive and add some scenic interest to the hike.
Although the trail looks pretty level on a map, the first few miles are a continuous up-and-down roller coaster, making the hike more challenging it might appear on a map. Only near the end, when the trail runs alongside Craigs Creek, does it become more level.
Start from the parking lot for the Smith River Launching Facility. Walk down the road a few yards to the Craigs Creek Trailhead. The trail, which is cut into a steep hillside, climbs high above the rocky gorge of the Smith River. The trail is mostly clear and well defined, but there are occasional springs of poison oak to watch out for. There are some attractively-wooded gullies where scattered small redwoods grow.
Occasional traffic on South Fork Road can be heard. Worse, gunfire can sometimes be heard coming from the Craigs Beach area; the hillside above the beach has a large clearing that people apparently use for target practice.
At about the two-mile mark the trail climbs to a ridge. The trail becomes easier as it begins to descend to Craigs Creek. The woods also become lusher and more attractive after this point, and as the trail curves away from South Fork Road the traffic noise fades away, to be replaced by the rushing sound of Craigs Creek.
The trail descends through some streamside maples, skirts a large wooded plateau, then descends to the confluence of lively Craigs Creek and the larger, more placid Smith River.
---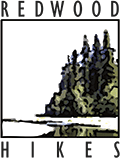 © 2019 David Baselt