★★★★★
Howland Hill Road
The best redwood drive
---
Length 6 mi one way
Howland Hill Road, which passes through the center of Jedediah Smith Redwoods, is one of the best redwood drives anywhere.
Starting from the south, the road climbs steeply into the park. Just after reaching its highest point, it enters the redwoods, immediately passing through a remarkable cluster of monster trees. Cut into a hillside, the road provides some nice views of the lushly-vegetated ravine below as it descends through an otherworldly landscape.
There's a sense of isolation from the outside world, since you're enclosed by fern-carpeted hillsides on either side and the forest canopy above, but also because the verdent, open woods are so unlike anything else you can drive through.
After passing the Boy Scout Tree Trail, the road levels out and the forest, though still very attractive old growth, is a little less exceptional until you reach Stout Grove.
The road is 6 miles long and surfaced with gravel. Depending on how recently it's been resurfaced, it can be almost indistinguishable from a paved road, or it could be a continuous string of potholes. It's only a single lane wide, but there are lots of pullouts where you can pass cars coming the other way. Nonetheless, the road is not recommended for RVs.
The road, or part of it, may be closed in winter if it's damaged by storms. In that case it's normally OK to walk on the closed section. The road is also closed for resurfacing once a year sometime in May, June, or July, depending on the weather, usually on weekdays only.
The park was planning to make the road one-way in the eastbound direction beginning in summer 2023, but the plans have been delayed.
Historical notes

---
Howland Hill Road predates the park, having been built in 1887 as part of the Crescent City to Grants Pass Road.
As you view the superb scenery along the road, be thankful that it wasn't turned into a four-lane highway. The State of California was planning to reroute Highway 101 through both Jedediah Smith and Prairie Creek in the 1960s until the well-connected Ford Foundation, which had put up the money to purchase Gold Bluffs Beach, applied political pressure.
Links

---
---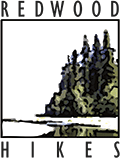 © 2007, 2009, 2021 David Baselt