★★★
The Leiffer and Ellsworth Loops
---
Length 2.1 mi · Climbing 330 ft
These two connected loops are next to the Simpson-Reed Trail. The redwoods aren't quite as big, but the trails have more of a backcountry feel: they're a lot quieter, with fewer visitors and little or no traffic noise, making it easier to appreciate the scenery.
The Leiffer Loop and the shorter Ellsworth Loop both start in remarkably lush old-growth lowlands and climb a hillside. Although the trail only climbs a few feet in elevation, it's enough for the forest to open up noticably and huckleberry shrubs to appear. The slight elevation also provides an interesting view of the lowland redwoods below.
Two access trails connect the loops to Walker Road. The southern trail leads through a patch of small, uninteresting redwoods, so it's worthwhile to start at the northern trailhead instead. It's a bit of a drive on the unpaved road; when you come to an intersection, take the narrower, less-used road to the left. There's a semicircular pullout at the trailhead where you can park.
The payoff for doing a little extra driving is an access trail that gets fewer visitors and passes through a much more spectacular stand of lowland redwoods. The access trail enters dense, lush redwood forest, meandering slightly uphill among huge redwoods. Go straight at the first intersection to continue hiking through the impressive alluvial flat. The section of trail from the trailhead to the second intersection is by far the best of the hike, and is also wheelchair-accessible.
Just before the second intersection, where the southern access trail splits off, the redwoods become much smaller. It's not clear why there's such a dramatic change in the size of the trees.
Turn right at the second intersection, then turn left onto the Ellsworth Loop, which has a surprising amount of climbing for such a short loop. Going counter-clockwise, the little-used trail ascends the hillside, then descends with some nice views of redwoods on the flat below. At the end of the descent, the trail reaches a bench carved out of a redwood log sitting next to a particularly large tree.
The Leiffer Loop continues with a long climb along an old roadbed well-disguised with dense groundcover. The change in the landscape on this climb is more pronounced than on the Ellsworth Loop, with smaller trees and more mundane scenery at higher elevations. The loop descends back to the marshy lowlands, where there are large redwoods among maples and a few tanoaks. The best part of this loop is the last few hundred yards, where the trail winds among impressive redwoods.
Take the access trail back to the trailhead.
---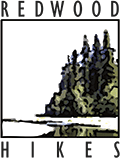 © 2007, 2012, 2013, 2017, 2021 David Baselt