★
The Wellman Loop Trail
---
Length 1.5 mi · Climbing 470 ft
State park campgrounds usually have trails, and this appears to be the campground trail for Jedediah Smith. Like most campground trails, it's just a convenient place for a walk and not really anything special, although it could be a good place to see rhododendron blooms in May. Although half of the trail is in old-growth redwoods, the scenery is strikingly different from the rest of the park: maybe because the trail is on a steep west-facing hillside, the landscape isn't nearly as lush as the rest of the park. The redwoods are small and surrounded by a dense understory of huckleberry and tanoak, making the hillside look more like the uplands of Humboldt Redwoods or the Bay Area than Jed Smith.
The trailhead is across Highway 199 from the campground. You have to look pretty carefully to spot it from the highway; it's only marked with a small sign that says "Wellman Loop Trail entire loop 1.5 mi". There's no really good way to reach the trailhead; however, it's possible to pull off at a dirt road just before the trailhead and follow the road uphill, past some water tanks, to the trail.
At the main loop, go right; the trail climbs for a surprisingly long time through small old-growth redwoods in a series of large switchbacks. In a few places the trail can be somewhat narrow and some of the hairpin turns are eroded. Small sprigs of poison oak occasionally overhang the trail. Cars and trucks roar by loudly on the highway below.
As the trail climbs, the redwoods get smaller and less common. The trail passes through a tiny but attractive grove of small redwoods just before reaching its highest point on top of a ridge. The redwoods then end altogether and the trail, after crossing to the other side of the ridge, descends through a tunnel carved from a dense understory of rhododendron and huckleberry. The trees are mostly Douglas-fir.
The trail switchbacks back down. The redwoods don't reappear until the trail has almost reached the highway, but then the trail passes through a short section of true lowland old growth before reaching the spur to the trailhead.
---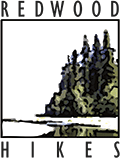 © 2011, 2017, 2022 David Baselt