The parks in this region are really small — each only has a mile or two of old-growth trails. But they're also really nice, with redwood groves that are almost as scenic as the bigger parks to the north.
The parks are about a 2–3 hour drive each way from San Francisco. Besides the redwoods, the Anderson Valley, Mendocino Coast, and Russian River areas also have abundance of other great sights, restaurants, and things to do, so they make a very enjoyable day trip or weekend trip from the Bay Area.
Parks with old-growth redwood trails

---
★★★★★
Montgomery Woods
State Natural Reserve
A lush, sheltered enclave hidden in a remote, steep-sided valley that contrasts strikingly with the surrounding oak savannah. Contains a redwood that was once the world's tallest known tree.
★★★★
Hendy Woods
State Park
A superb and surprisingly large alluvial-flat grove set among the Anderson Valley's apple orchards and vineyards.
★★★
Armstrong Redwoods
State Natural Reserve
A park in the scenic Russian River resort area with a small but very attractive redwood grove.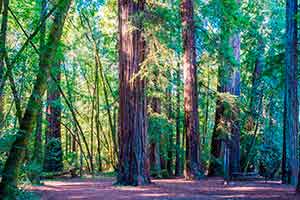 ★
Indian Creek
County Park
A tiny park on Highway 128 near Hendy Woods, with campsites under some old-growth redwoods and two short trails.
Parks with second-growth redwood trails

---
★
Grove of Old Trees
A ridgetop grove with about a mile of trails. Most of the redwoods are small, but there are a few moderately large trees.
Parks with no trails

---
★
Navarro River
Redwoods State Park
A narrow corridor of second-growth redwoods near the Mendocino Coast. It's a nice drive but there aren't any trails.
★
Mailliard Redwoods
State Natural Reserve
A patch of old-growth redwood upland with no trails and really nothing of interest other than the mid-sized redwoods that can be seen from the road.
★
Admiral William Standley
State Recreation Area
The southernmost redwood park on the Eel River features a rather mundane redwood grove of small to mid-sized trees. No trails or other facilities.