With a million visitors per year, Muir Woods is the world's most-visited redwood park. Since it's just a 30-minute drive from San Francisco, visitors to the city can experience a little of California's unique natural beauty and be back in time for lunch.
The downside of this popularity is the crowds: with the long walk to the entrance and crowds of tourists jamming the wide boardwalk, Muir Woods can feel a little like a theme park. Even the trails that climb the steep hills around the Bohemian Grove Trail are surprisingly busy.
The tallest trees in the park are only about 250 feet high, about two-thirds the height of the tallest North Coast redwoods. The redwood grove has an unusually dark appearance and lacks the strikingly lush look of the best old-growth redwood groves.
Mount Tamalpais State Park surrounds Muir Woods and is extremely popular with locals. It offers superb mountain and ocean views, and even has some old-growth redwoods, although it's mostly covered with very small second-growth redwoods, coastal scrub, and rolling alpine meadows.
Old-growth redwood hikes in Muir Woods

---
★★
The Bohemian Grove Trail
Length 2.0 mi · Climbing 120 ft
The main attraction of Muir Woods, this heavily-used trail follows a stream through a canyon lined with medium-sized redwoods.
★★★
Sun Trail
Length 4.7 mi · Climbing 930 ft
A scenic loop that climbs a steep grassy hillside high above Muir Woods, then descends through a narrow, redwood-filled side canyon to the main old-growth grove. The best of the loops that climb the hills around Muir Woods.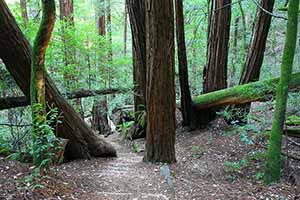 ★★
The Ben Johnson Trail
Length 5.2 mi · Climbing 1100 ft
Climbs a long, grass-covered ridge, then descends through old-growth redwood uplands to the Bohemian Grove Trail.
Old-growth redwood hikes in Mount Tamalpais State Park

---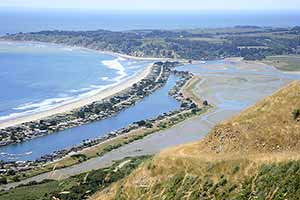 ★★★
Willow Camp and Steep Ravine
Length 8.5 mi · Climbing 2080 ft
A challenging hike that starts on top of grass-covered coastal hills with dramatic ocean views, then descends to Stinson Beach, and finally climbs through a redwood-filled canyon.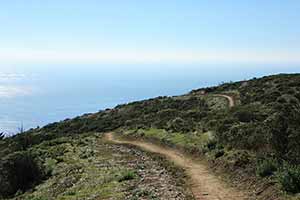 ★★★
Dipsea and Steep Ravine
Length 3.9 mi · Climbing 890 ft
An enjoyable hike with a little of everything — great ocean views, lush coastal woodland, and a cool, damp canyon lined with old-growth redwoods. The redwoods are smaller and fewer in number than Muir Woods, but overall the hike is much less touristy.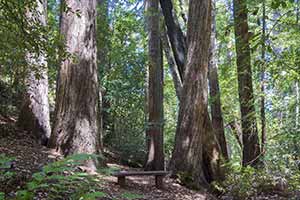 ★★
Colier Spring
Length 1.4 mi · Climbing 410 ft
High on the north side of Mount Tamalpais, Colier Spring sustains a tiny, little-known old-growth redwood grove.
Other hikes

---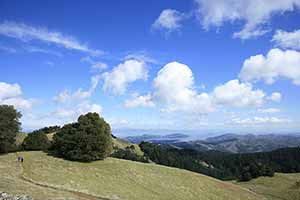 ★★★
Dad O'Roarke's Bench
Length 0.6 mi · Climbing 30 ft
A short stroll through alpine meadows to a scenic view of the Marin Headlands.
Walk-in campgrounds

---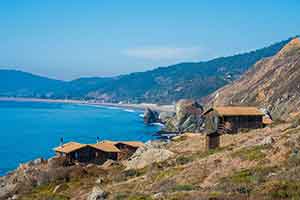 ★★★★★
Steep Ravine Cabins and Campground
$25 – $100/night · Open all year
Perched on a blufftop with superb views of the remarkably scenic Marin coast, this cluster of little cabins is one of the most extraordinary places to camp in California. Nearby on the same plateau are 7 campsites.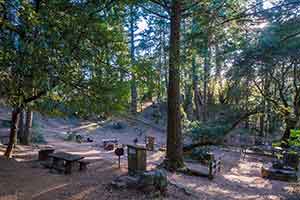 ★
Pantoll and Bootjack Campgrounds
$25/night · Open all year
Mount Tamalpais' popular Pantoll and Bootjack campgrounds are surrounded by great scenery and great hiking, but the campgrounds themselves aren't really that attractive and get lots of traffic noise.
Getting to Muir Woods

---
Reservations are required to park anywhere near the main entrance to Muir Woods or to take the 30-minute shuttle ride (available weekends and holidays only) to the main entrance. Parking reservations cost $9.00 per car, while shuttle reservations are $3.50 per person. There's also an entrance fee of $15 per person. Reservations can be made up to 90 days in advance.
The reservations and fees be avoided if you can find parking along the Panoramic Highway and are willing to hike 2 miles with an 800 foot elevation change to reach Muir Woods. However, parking along the Panoramic Highway is almost impossible to find on summer weekends; even at 10 am it feels miraculous to find a spot.
On summer weekends the drive to Muir Woods becomes very slow. Traffic on the Golden Gate Bridge and on Route 1 through Sausalito grinds to a standstill by noon and gets even worse later in the day, often adding an hour to the drive. As it nears the park, the road becomes narrow and very twisty with nothing to keep you from tumbling off the cliff.