★★
Heritage Grove

The smallest redwood park
---
Length 0.5 miles · Climbing 80 feet
Heritage Grove is a tiny pocket of redwoods, with only a few dozen old-growth trees visible from the trail, but it's a genuinely lovely place. With a lush carpet of sorrel and ferns, trunks turned copper-colored by lichen, and a burbling stream, the grove has all the kinds of scenery found in the best redwood groves, just not very much of it. Thanks to its location in a deep, narrow canyon, it's also much more lush than the nearby redwood groves of Big Basin, Portola, or Henry Cowell Redwoods. The grove is on Alpine Road, a narrow, winding, and scenic road that runs from Palo Alto to the ocean, a favorite of motorcyclists. The road is always just a few yards away, but the grove can still be quite peaceful.
From the parking area, a narrow bridge leads to the grove. A short trail passes through the lower grove, which occupies a little alluvial flat. The grove has a nice collection of good-sized redwoods, but unfortunately it's not pristine; there are seven large stumps and a few smaller ones along the trail. The trail ends abruptly at the location where a footbridge that used to span the river has been removed.
The heavy rains of early 2023 eroded the banks of Alpine Creek so much that two of the large stumps fell into the creek, and part of the trail is also about to collapse into the creek.
Another trail branches off to the upper grove. Although there's actually a large section of unlogged hillside, all that's really visible from the trail is a group of four large redwoods. The grouping is easily missed; if you come to an intersection with a sign pointing the way to "Hiker's Hut", you've gone too far. A stroll through both the upper and lower groves covers less than half a mile.
---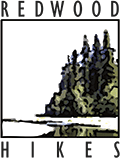 © 2006, 2012, 2014, 2015, 2021, 2023 David Baselt