Since the 2020 CZU Lightning Fire destroyed Big Basin, Portola Redwoods is now the most pristine redwood park in the Santa Cruz Mountains. Of all the parks in this region, Portola Redwoods looks the most like Big Basin did before the fire; it just has much smaller redwoods.
The park's main entrance and visitors' center are in a lush redwood grove that's been protected from logging since 1924. The interpretive signs say the region was selectively logged before then, but most of the area still appears to be old growth with few or no stumps. It doesn't have the really big trees normally found in old-growth redwood lowlands, but that could be the natural condition of the area.
Besides the main grove, the park has two remarkable outlying groves: Peters Creek, which is old growth and can only be reached by a long trek with lots of climbing, and Slate Creek, which has been selectively logged but is nontheless quite scenic and easier to reach.
The Portola visitor's center has a great park relief map. The big, detailed three-dimensional map covers not just Portola but much of the Santa Cruz Mountains.
Old-growth redwood hikes

---
★★
The Peters Creek Loop
Length 11.5 mi · Climbing 1820 ft
A strenuous hike that starts in unexceptional redwoods, but leads to a very scenic redwood-filled canyon. Until Big Basin recovers from the fire, this is the Bay Area's best old-growth redwood hike.
Other redwood hikes

---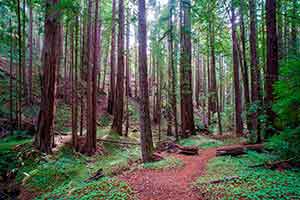 ★★
The Slate Creek Trail
Length 7.0 mi · Climbing 880 ft
The Slate Creek Trail descends into a lush creek valley with a remarkably plush carpet of redwood sorrel. Although the redwoods are second growth, it's still one of the most scenic parts of Portola Redwoods.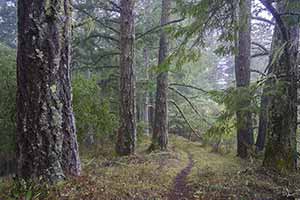 ★★
Coyote Ridge and Shingle Mill
Length 5.8 mi · Climbing 1100 ft
A nice introduction to the area. Half the hike is in Portola and half in Pescadero, and the loop highlights the subtle differences between the two parks.
Campgrounds

---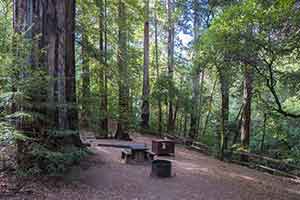 ★★★★
Portola Redwoods State Park Campground
$35/night + $8 · Apr–Oct
Located in a deep shady valley, this one of the Bay Area's nicer redwood campgrounds. There aren't any really huge redwoods, but it's quite attractive.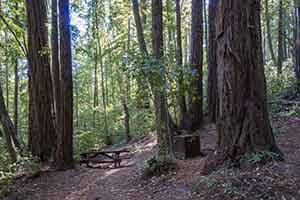 ★★★
Slate Creek Trail Camp
$15/night + $8 · Open all year
A backpacking camp with a nice remote feel, in pleasant but unremarkable woods a 3-mile hike from Portola's visitor center.