★★
The Ah Pah Trail
---
Length 0.6 mi · Climbing 40 ft
The short Ah Pah Trail follows the path of a logging road that was removed in the 1990s to reduce erosion. Interpretive signs along the path describe the removal process, making this walk an interesting look into how the forest is being managed. Road removal is a major ongoing effort at Redwood National and State Parks, and over a hundred miles of logging roads have been removed since the 1970s.
The trailhead is at the highest point of Drury Parkway, 6.5 miles north of the visitor center. Look for a sign that says "Ah Pah Interpretive Trail 500 feet" and park on the short stub of paved road, the only section of the old logging road that remains.
The path descends gently through exceptionally nice redwood uplands, with large and varied trees on a steep hillside. The hillside has been re-graded to remove most traces of the road. It's hard to tell that there was once a road here, but if you look closely you might notice a wide strip with no big trees. Instead, small trees and brush line some parts of the trail. As a result, you don't feel quite as enveloped in the redwood forest as on a normal trail.
The trail ends at a nice redwood grove. Traffic noise drifts up from Highway 101, intruding on the serenity of this otherwise very attractive place. Recently, an unofficial trail has appeared that descends steeply for a few yards before petering out in the bottom of a ravine.
---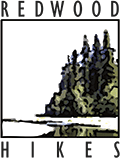 © 2006, 2014, 2020 David Baselt