★★
Carruthers Cove
---
Length 2.2 mi · Climbing 580 ft
Carruthers Cove is a really quiet, secluded beach, even by Prairie Creek standards. It can be reached by a short descent on a section of the Coastal Trail. The scenic beach, which is mostly visited by locals, is strewn with big boulders.
The area appears to naturally lack redwoods and is mostly covered with coastal spruce forest.
Start on Coastal Drive. It's easy to miss the trailhead; there's just a small pullout and a tiny sign that says "Coastal Trail".
The short trail descends through lush, shady spruce woods. Near the bottom, the woods give way to dense brush, including some stinging nettles, overgrowing the trail. Part of the trail in this area has eroded away, leaving a big dip.
The trail ends at a scenic driftwood-strewn beach. Among the driftwood is at least one huge bleached redwood stump. To your left, is a collection of large boulders that you can walk among if the tide and surf are low. The Coastal Trail continues down the beach, past some larger boulders, all the way to the Ossagon Trail; however, it may only be possible to get around the boulders if both the tide and surf are very low. Exactly how low the tide needs to be varies a lot from year to year and season to season, as the level of the beach sand can go up and down by 6 feet or more.
If you can get through, it's tempting to make a loop by returning on the Ossagon Trail and Drury Parkway, but the combination of high-speed traffic and no shoulder on the twisty section of Drury Parkway makes it somewhat hazardous for walking.
Instead, return the way you came. After walking around on the beach, it's striking how cool and quiet the woods are. The climb is a little steep but it's short.
---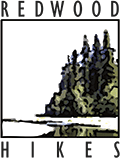 © 2014, 2021 David Baselt