★
The Little Creek Trail
---
Length 0.4 mi · Climbing 90 ft
Like the nearby Moorman–Pond Trail, the Little Creek Trail is a short trail that climbs through a canyon off of Drury Parkway to a memorial bench. The Little Pond Trail, however, doesn't have nearly as many redwoods. There are a few redwoods, but the woods are dominated by other kinds of trees. It's not clear why the two canyons have such different vegetation, since their topography is nearly identical.
The trailhead is only marked with a little sign that incorrectly says that the trail is 1.0 mile long. It climbs up the south wall of the canyon. The trail is poorly maintained, with several fallen trees near the beginning.
The trail passes a few small redwoods before ending at a memorial bench. If there used to be a trail past this point, there's no sign of it now.
---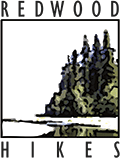 © 2018, 2023 David Baselt