★★
The Nature Trail
with the Revelation and Redwood Access trails
---
Length 1.0 mi · Climbing 110 ft
California state park campgrounds usually have short trails to provide campers a convenient place to hike. The Nature Trail used to be Prairie Creek's campground trail, forming a loop that connected the northern and southern ends of the campground to the visitor center.
Unfortunately the best part of the trail, the spectacular southern section, has been abandoned and is now overgrown. Only the northern third of the trail remains, and although it runs alongside Prairie Creek, it's both more difficult and less scenic than its neighbor, the Prairie Creek Trail. It also doesn't connect to the campground anymore. The Nature Trail is still pretty first-rate old-growth, but in the heart of Prairie Creek there's a lot of competition.
Start at the Visitor Center trailhead. Cross the large bridge across Prairie Creek and continue straight, passing the Prairie Creek and James Irvine/Miners Ridge Trails. The trail briefly emerges from the forest and passes through streamside vegetation for a few steps, then plunges back into impressive redwoods and begins a climb that's surprisingly steep for a nature trail.
The trees get noticably smaller as the trail climbs high above the creek, but soon the trail descends back into the big trees. At the point where the trail levels out, there's a barely-visible trail to the right that's blocked by a single post. This is the abandoned part of the Nature Trail; it climbs another steep hillside and descends back to the creek through some impressive redwoods, then completely disappears in a jumble of fallen trees and overgrown vegetation. Skip the abandoned trail and continue straight, following a sign that says "Summer Trail / Campfire Center / (Summer only)".
The trail crosses the creek on a footbridge that's only installed when the water is low. This happens to be a really deep part of the creek; it's about three feet deep during the summer and may be deeper in winter. 10 or 20 yards to the left or right the creek is only about 6 inches deep.
Once across the footbridge, go left toward the Revelation Trail. Stay left at each of the next two intersections as well. You'll walk a short section of the Revelation Trail, a short loop with a trailside cable to guide visually-impaired visitors. The second left is the Redwood Access Trail. It's a really scenic area with some huge redwoods, but the forest doesn't quite have the lush, stately, and ancient look that it has across the creek.
The trail emerges next to the visitor center.
---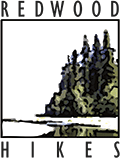 © 2006, 2012, 2018 David Baselt