★★★
The Ten Taypo Trail
Loop hike with the Hope Creek Trail
---
This loop begins in a dramatic redwood-lined canyon just off Drury Parkway. The trail climbs through impressive redwood lowlands, then through more ordinary uplands, before reaching a lushly-wooded ridgetop. The constantly-changing surroundings makes for an interesting and enjoyable hike.
The hike starts in a side canyon off Drury Parkway. All the Prairie Creek tributary canyons are quite impressive, and this one is no exception; the steep-sided, fern-carpeted canyon is filled with big redwoods and is by far the best part of the hike. An open understory allows some good views of the redwoods.
At the first (and only) intersection, turn right onto the Ten Taypo Trail and cross a long, winding footbridge. The trail, which is cut into the side of a hill, ascends gently through an attractive lowland redwood environment with lots of big redwoods. The distinctive, flute-like single-note call of the varied thrush echoes through the woods.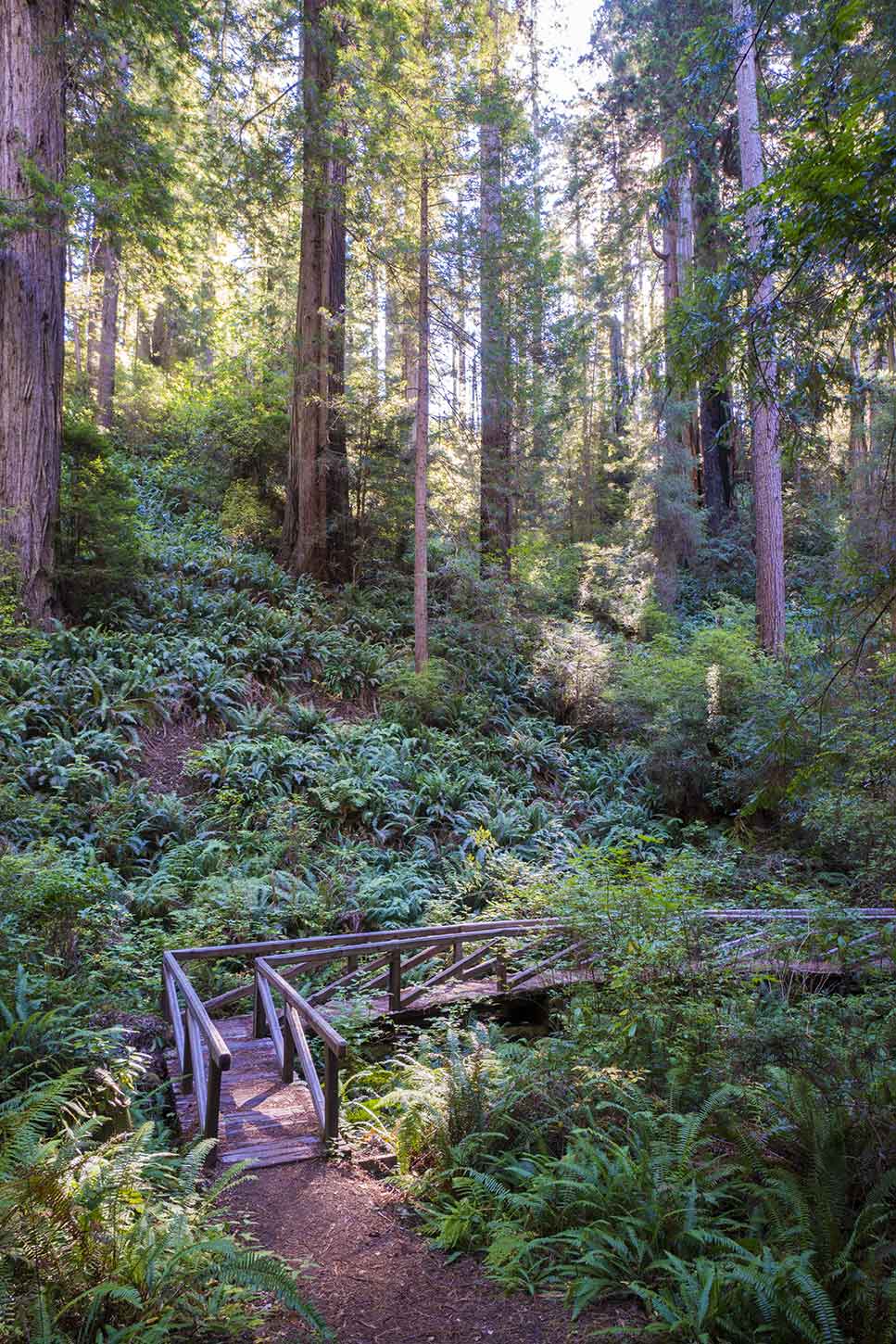 Soon the trail turns left, leaving the west-facing hillside for a south-facing hillside. At this point the forest changes rapidly and after a few turns of the trail it's not nearly as lush or open as before. The trees are smaller and more uniformly-colored, and the understory is clogged with huckleberry and rhododendron. However, there are still some nice redwood vistas as you approach the ridge.
At the ridge, the trail joins an old dirt road thatrsquo;s mostly narrowed into a singletrack. The road is one of the best parts of the loop; the gently-sloping road has a welcoming feel, and the forest is a lot more lush, open, and scenic on the ridgetop than on the upper hillside. The redwoods are bigger, and there's an understory of ferns and rhododendron. There may be the distant woosh of traffic from Highway 101 as the dirt road first ascends, then descends along the ridge.
This road used to be part of a network of ridgetop trails that were abandoned after the construction of Highway 101 and have now completely disappeared. Most of the trails were in second growth; this is one of the few old growth segments.
The road turns back into a singletrack trail that crests and then briefly passes through a fir grove. This grove, which can be somewhat dark and gloomy, is strikingly different from any other part of the hike and lacks the lushness that's so characteristic of Prairie Creek. There's a near-total absence of huckleberry and other understory, and only a few ferns dot the ground. The area almost looks like it's been logged, except there aren't any stumps. Medium-sized redwoods are sprinkled through the grove.
The fir grove abruptly ends, giving way to normal redwood forest. There's a dense understory of huckleberry with lots of rhododendron. As the trail switchbacks down the hillside, the understory gets progressively less dense and the redwoods get larger.
---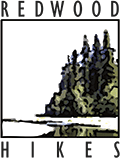 © 2006, 2010, 2013, 2018, 2023 David Baselt