DeMartin is a backcountry camp in an outlying section of Redwood National Park just south of Del Norte Coast Redwoods State Park. Getting there requires about a three mile hike on the Coastal Trail from either the Wilson Beach parking lot to the south or an unmarked pullout on Highway 101 to the north.
The camp is on a sunny plateau covered with patchy spruce and alder woodland interspersed with blackberry brambles. The area naturally doesn't have any redwoods, and although the camp is close to the ocean there aren't any ocean views. The distant roar of the ocean and the occasional loud truck on Highway 101 can be heard throughout the camp.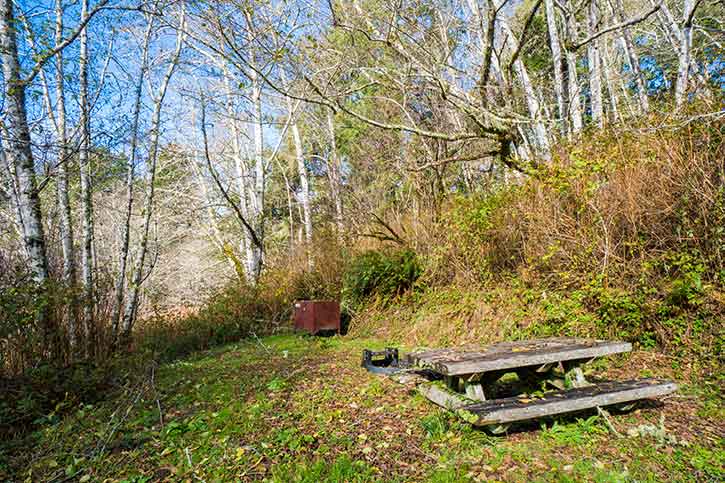 Details

---
The sites are unusually spacious (except site 2, which is somewhat small) and well-separated. Each site has a picnic table, a food storage locker, and a fire ring. The old wooden picnic tables visible in the pictures have been replaced with nice new composite tables that are much easier to clean. There's one outhouse.
It's free to stay here, but you have to apply for a backcountry camping permit between 2 and 28 days before your stay. The permit guarantees that a site will be available for you, but you can't reserve a specific site. There's a maximum 5-day stay. The camp used to have 10 sites, but one little-used site (really just an extra picnic table in the middle of the campground) disappeared when the picnic tables were replaced.