★★
Enderts Beach
---
Length 1.5 mi · Climbing 200 ft
This short, popular walk on the Last Chance section of the Coastal Trail leads to an isolated beach with tidepools.
The beginning of the trail is carved into a rocky cliff and is sometimes closed for long periods by a landslide just a few yards from the trailhead. It will eventually be re-routed.
Start from the parking lot at the end of Enderts Beach Road. The parking lot is small but it's not usually a problem finding parking in the lot or on the side of the road. The trail starts out as a dirt road with a nice ocean view.
The trail descends into a wooded area. Turn right at the first junction to continue descending to the beach. The trail passes the site of Nickel Creek Campground, which used to be the most popular backcountry campground in Redwood National Park until it was closed by the landslide.
Return the same way. Back at the parking lot, a short trail leads to the Crescent Beach Overlook, a wooden platform with a great view toward Crescent City.
---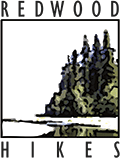 © 2019 David Baselt