Flint Ridge is a backcountry camp that offers more of a quiet, natural setting than the regular car campgrounds. You have to walk about five minutes to your site from the parking lot, and there are no flush toilets, showers, or campground host, but it's completely free. The campground is popular and usually fills up in the summer.
The campground is on a sunny shrub-covered hill by the sea. The sites are surrounded by leafy alder trees; there naturally aren't any redwoods. The crash of the surf fills the camp, but the trees block most of the ocean view. The camp is fairly remote so there's no traffic noise.
A sign warns that bears have been seen in the area.
The best site is number 8, which is in an attractive alder grove and is well-separated from the other sites.
The camp is at the end of the Flint Ridge section of the Coastal Trail; there are some small but scenic old-growth redwoods just up the trail. There's beach access about a mile north on Coastal Drive, but since Coastal Drive is one-way, to get back you have to drive a 6-mile loop around Flint Ridge.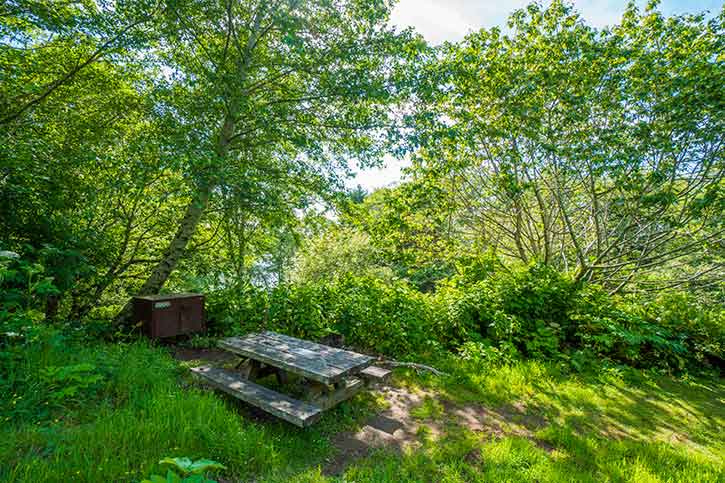 Campground details

---
The sites have picnic tables, fire rings, and food storage lockers. Some sites have nice new picnic tables, and a few have two picnic tables. There's a single outhouse for the camp; since this is a backcountry camp there aren't any flush toilets or showers.
The campground used to be first-come, first-served, but you now have to make a reservation by applying for a backcountry permit at most 28 days before you arrive, and at the latest 9:00 am 2 days before you arrive. You can't reserve a specific site. There's no charge to camp here, and the maximum stay is 5 nights.
The camp is normally open all year, but in the past few years it's been closed (including one time during Labor Day weekend) due to fire danger, smoke, and a government shutdown.