★★
The Klamath River Overlook
Requa
---
Length 0.8 mi · Climbing 350 ft
This picnic area on top of a high bluff has the best ocean view in Redwood National and State Parks. The commanding views of the ocean and the rocky coastline make this a popular spot for spotting whales and watching the sunset; even in winter, the little lot can fill up late in the afternoon.
The lot is near the settlement of Requa, a few minutes's drive from Highway 101.
There are two picnic benches and a restroom, but it's usually too cold and windy to actually have a picnic here.
A narrow, sometimes-overgrown half-mile trail descends to a rocky outcropping far below (if you look carefully, you can see the distinctive pyramid-shaped outcropping from the parking lot). To be honest, though, it's better to just skip the trail and enjoy the view from the parking lot. The view from the end of the trail is essentially the same, just from a lower vantage point.
There's no trail to the beach.
---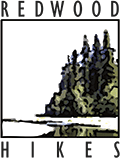 © 2022 David Baselt