Sue-meg is a small state park on the rocky Trinidad coast. It's dominated by a dense spruce grove and naturally doesn't have any redwoods, but it's only about 20 minute drive south of Redwood National Park.
The park was known as Patrick's Point State Park until it was renamed in 2021. Sue-meg (pronounced "sue-may", and with a lower-case "m") is the original indigenous name for the area.
The park features three campgrounds that are spacious and spread out, with plenty of room between sites and lots of shrubs to isolate the sites. Except for Penn Creek, the campgrounds are well away from the highway or any major roads and don't get any traffic noise; instead, the constant white noise of the surf fills the air. As a result the campgrounds feel quiet and peaceful, even on summer holiday weekends.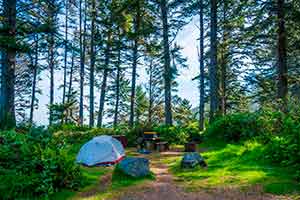 ★★★
Agate Beach Campground
Open all year · $35/night + $8
The most attractive of the campgrounds. Most of the sites are out in the open and surrounded by dense shrubs, but the best sites are at the edge of the spruce forest.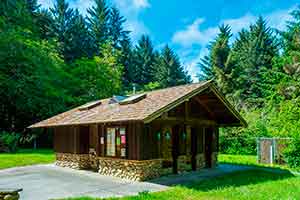 ★★★
Penn Creek Campground
Memorial Day–Sep 30 · $35/night + $8
This tiny campground doesn't feel as busy as the other campgrounds, but it's the closest campground to the road, so it gets a little traffic noise.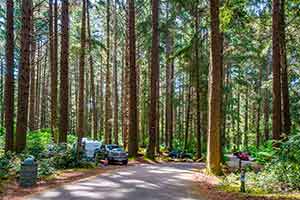 ★★★
Abalone Campground
Memorial Day–Sep 30 · $35/night + $8
The largest of the campgrounds, Abalone is the most likely to have sites available on summer weekends. It feels a little busier than the other campgrounds and has a darker look, since it's entirely within the deep shade of a dense spruce grove.
Hike/bike sites

---
Sue-meg has a pretty nice hike/bike area that's set well apart from the car campgrounds. The hike/bike area is part of a network of campsites intended for long-distance cyclists and thru-hikers who may not know where they'll be each night. Hike/bike camping is available on a first-come, first served basis for $5/night, and you can't bring a car.
Campground details

---
Typically for a California state park campground, Sue-meg is mainly meant for drive-in tent camping. Although it's much better for RVs than the older 1930s-era campgrounds, there aren't any RV hookups and the winding roads and small pullouts aren't ideal for larger vehicles.
It's easier to get reservations here than it is in Redwood National and State Parks, but the campground still fills up almost every night. The six ADA sites can only be reserved if you have a disability placard; any unreserved sites are available on a first-come, first-served basis when the kiosk opens in the morning.
Things to do

---
The park features some nice, easy trails along a scenic rocky coastline and through the wooded interior, but the main attractions are Wedding Rock, a huge rock formation that you can hike to the top of, and the long, wide Agate Beach. In winter, Rocky Point and the cove just north of Wedding Rock feature terrifyingly dramatic waves crashing into the sea stacks that loom over the shore.
(If you just want to see ocean views and aren't camping or hiking, save the $8 day use fee by going to Luffenholtz County Park instead; this micro-park is just a few miles south of Sue-meg, has an even more impressive view, and is free).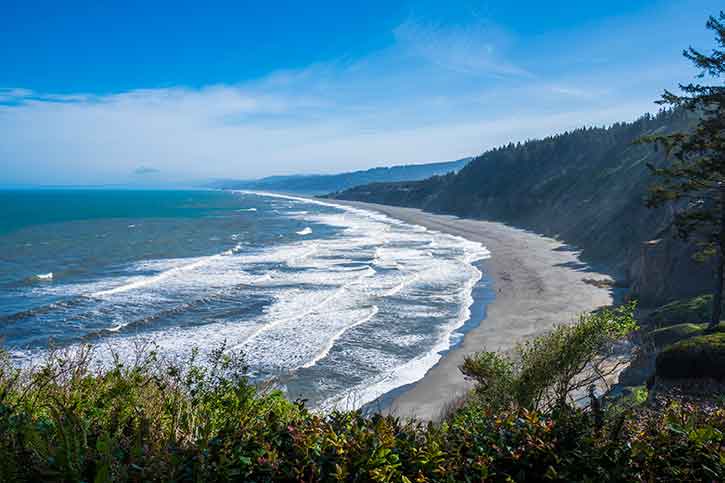 Links

---