Standish – Hickey State Recreation Area
---
featuring the Taber Nature Trail
As northbound Highway 101 enters redwood country, it passes three small redwood parks, each more impressive than the last, before finally reaching the most impressive redwoods of all in Humboldt Redwoods. Standish-Hickey is the first of these parks and, when seen from the highway, is the least scenic of the three. Driving through, you wouldn't even guess that there's a redwood grove here, and in fact the park's most popular features aren't its trails but its campgrounds and a swimming area on the crystal-clear Eel River.
The trail with the most redwoods is the Taber Nature Trail, north of Highway 101.
South of Highway 101 is a larger network of well-designed and well-maintained trails that wind though relatively dry-looking, mostly non-redwood forest. All of these trails lead to the Captain Miles Standish Tree, a good-sized redwood standing in isolation in a heavily-logged grove. The trails all get some traffic noise, but are otherwise very enjoyable to hike. They as well as the best part of the campground are only accessible in the summer via seasonal bridges.
Hikes

---
*Taber Nature Trail (1.7 miles)
This short trail climbs to a small upland grove with a few dozen widely-scattered, small to medium old-growth redwoods and a lot of really small conifer trees.
Campground

---
*Hickey, Rock Creek, and Redwood Campgrounds ($35–$40/night + $8, open all year)
Redwood Campground is set among some small redwoods in the bottom of a gorge; it's only open in summer. Hickey and Rock Creek Campgrounds are right next to Highway 101 and get a considerable amount of traffic noise.
---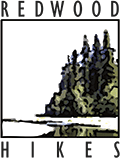 © 2009, 2014, 2017 David Baselt