Pre-fire page

---
This page shows what Butano State Park was like before the August 2020 lightning fire and does not describe current conditions. See the main Butano State Park page for current information.
Butano State Park is one of the quietest and most remote parks in the Santa Cruz Mountains. Although it's becoming more popular, it's still a great alternative to the increasingly overcrowded Big Basin.
The park features a remarkably lush pocket of small- to medium-sized redwoods tucked into a sheltered coastal canyon. Parts of the canyon been logged, most notably along Little Butano Creek and the Olmo Fire Trail, both of which have been clearcut. However, unlike a lot of second-growth parks, the logging is patchy and many areas of old growth redwoods remain. There aren't any really big redwoods in the park, but that appears to be the natural condition of the area rather than the result of logging.
Since it's on the coast and in the deep shade of the redwoods, the park makes a refreshingly cool refuge from the summer heat of the Bay Area cities. The park is also close to a lot of other coastal attractions like the Pigeon Point Lighthouse, Point Ano Nuevo, the little town of Pescadero, and Pescadero State Beach.
Hikes

---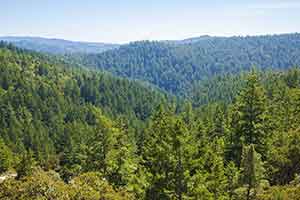 ★★
Canyon Rim Route
Length 11.7 mi · Climbing 1700 ft
A satisfying backcountry loop with an engaging variety of scenery, including old-growth redwood uplands, sunny chaparral with expansive views over the conifer-clad mountains, and a creekside stroll.
Drive-in campgrounds

---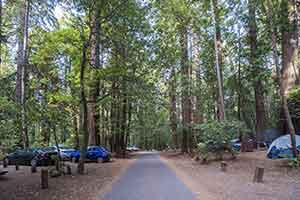 ★★★★
Ben Ries Campground
Apr–Nov · $35/night + $8
Wonderfully secluded in a shady canyon, Ben Ries Campground is set in an attractive grove of mostly old-growth redwoods.