Walker Road runs through a remarkably lush, dense, jungle-like lowland redwood grove. In fact the woods are so dense that, even though there are some real monster trees, you can't actually see much from your car.
The road is mostly level and easy to drive, and it's conveniently located right off Highway 199. There are lots of places where you can pull off the road and park.
Some short but nice trails branch off from the road. The roadside scenery is most impressive right around each of the trailheads; whoever built the trails must have picked the most scenic areas for them.
Since the traffic is fairly slow-moving, it's possible to walk on the road itself, but the wide, straight road doesn't give the feeling of being immersed in the redwood forest the way the trails do. However, Walker Road is one of the few places in the park where it's OK to take your dog for a walk in the redwoods.
The beginning of the road gets somewhat busy, with maybe a car every 2 or 3 minutes, but it gets a lot quieter after the first half-mile or so.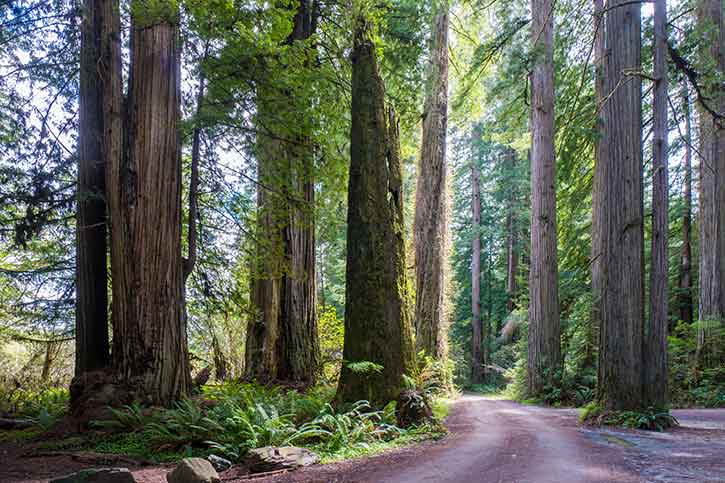 Description of the drive

---
Here's the beginning of the road in Google Maps and Google Street View.
As you drive down Highway 199, the only warning you get that Walker Road is coming up is a small, yellow diamond-shaped sign that indicates an intersection is ahead. There are no turn lanes.
The first quarter-mile or so of the road is the most impressive, with lots of monster trees around the Simpson-Reed and Metcalf Grove trailheads, and an immense stump with a fallen tree next to it.
The redwoods then abruptly become smaller, and other types of trees become more common. Lichens hang from tree branches, contributing to the lush, jungle-like look.
After half a mile, there's an intersection. The road straight ahead quickly leaves the redwoods and ends at a scenic bend in the Smith River, a popular fishing spot for locals. Turn left to continue the drive.
The next half-mile isn't that interesting, but then the road reaches another cluster of big redwoods near the northern Leiffer Loop trailhead.
You may want to take advantage of the trailhead's nice large pullout to turn around. Although the road continues for another half-mile after the trailhead, it's not as scenic because it skirts the edge of the grove where the redwoods are smaller. The most interesting views are a few glimpses of the river below. There's a very small turnout on the left where you can turn around just before the road makes a very rough, lumpy descent and dumps you onto the gravel beach.