★★★
Big Basin Before the Fire
---
Archived site from 2020
Pre-fire page

---
This page shows what Big Basin was like before the August 2020 lightning fire. It does not describe current conditions. See the main Big Basin page for current park information.
Background

---
Big Basin is only 20 miles from San Jose, a one-hour drive along twisty mountain roads. But when you arrive at the extraordinary park headquarters area, where graceful conifers rise high above 1930s lodge-style buildings, and when you step out into the crisp cool air, it feels like being at a remote mountain resort.
All of Big Basin's old-growth redwood trails start in the basin-like valley near park headquarters. An alluvial flat that extends about a quarter mile north and a quarter mile south of park headquarters has the biggest trees and most attractive woods in the park.
Middle Ridge, rising 1000 feet above the flat, divides the park into two subtly different environments. The region to the east of the ridge is in a rain shadow. Particularly north of park headquarters where the ridge is highest, this area tends to be somewhat dry-looking for a redwood forest, though it's still remarkabaly lush by any other standard. The area is slightly less attractive because of the dense understory of tanoak trees that grows among the redwoods, reducing visibility, and because the ground is mostly bare dirt and leaf litter, giving the forest a disheveled appearance. The redwoods are not generally very large and many have been blackened by fire. The region to the west of the ridge tends to be greener and much more attractive. Sorrel and ferns cover the ground, large trees are more common, and the forest has a richer, healthier look. The park headquarters area is a dramatic exception to this pattern, with many ancient redwoods but little ground cover, suggesting that its water mainly comes from Opal Creek rather than from direct rainfall.
Big Basin is a popular park, and even in winter it can be hard to find parking on sunny weekends. On summer weekends parking in the headquarters area can fill up completely and rangers may start turning people away. Arrive before 10 am or after 5 pm to avoid the rush.
There's a $10 fee to park in the headquarters area, but you can park for free in more remote areas like Waddell Beach, Whitehouse Canyon Road, or China Grade.
Seasonal trail camp closures
Twin Redwoods, Alder, and Butano Trail Camps are closed from November 1 to April 30 each year. Currently the other camps are open all year but don't have trash service in the winter.
Old-growth redwood hikes

---
*** Berry Creek loop (10 miles)
Sunny, pleasant redwood uplands followed by miles of streamside redwood forest with some impressive groves. Lots of hills. The best long redwood hike south of Humboldt County.
*** Redwood Nature Trail (0.6 mile)
By far the most popular trail in Big Basin, this is a very nice loop through an alluvial flat with the park's most impressive trees.
*** Sunset–Skyline Short Loop (2.9 miles)
This loop is the best choice if you want to go for a one- or two-hour hike in Big Basin and don't mind a little climbing. It gets you away from the busy Park Headquarters area and into some nice old-growth redwood uplands.
** Skyline-to-the-Sea Trail (25.0 miles)
This 3-day hike, which features the best of Big Basin's redwoods, is the most popular backpacking route in the Santa Cruz Mountains.
** Slippery Rock (5.4 miles)
This relatively easy hike includes some decent old-growth redwood scenery, plus a walk up an algae-covered rock face.
** Hollow Tree and Meteor Trails (8 miles)
A climb through a rather dry, fire-blackened redwood forest is followed by a descent through a very nice redwood-lined ravine and then a jaunt along Opal Creek.
* Blooms Creek Loop (3 miles)
A short hike along Blooms Creek followed by a climb through rather uninteresting forest and a descent that winds around attractive redwood-lined ravines.
* Creeping Forest loop (3 miles)
A climb through a mixed redwood forest.
* Sempervirens Falls (3.4 miles)
A popular short hike, mostly alongside paved roads, to a small waterfall.
Other hikes

---
*** Westridge Trail (9.4 miles)
This one-way hike joins two of the most scenic parts of western Big Basin: the Rancho del Oso valley and Chalk Mountain. Between is a very strenuous climb to a wooded ridgetop.
** Basin Trail Loop (12 miles)
This hike circles the rim of Big Basin, where sunny chaparral with great views of redwood-clad hills alternates with cool, shady woods. You'll then descend into a canyon filled with old-growth redwoods and finish the hike with a few pleasant miles of strolling through the redwoods alongside a burbling creek.
** Buzzard's Roost (5 miles)
A 1200-foot climb to a panoramic view over Big Basin. The only redwoods are at the bottom of the hill, but they're nice. A popular hike.
* Eagle Rock (4.5 miles)
The Eagle Rock Trail starts next to the Little Basin Campground and climbs to a rocky peak. It's a little like the nearby Buzzards' Roost hike but not as scenic.
Car campgrounds

---
**** Wastahi Campground (27 walk-in sites)
Wastahi is Big Basin's walk-in campground, meaning that you have to walk up to 200 yards from the parking lot to your campsite. The payoff is a quieter, nicer-looking campground with more of a backcountry feel.
*** Huckleberry Campground (36 tent cabins, 25 drive-in sites, 8 walk-in sites)
Huckleberry is the sprawling suburb of Big Basin's campgrounds, with tent cabins, drive-in sites, and walk-in sites located among small old-growth redwoods.
** Blooms Creek Campground (52 drive-in sites)
Blooms Creek has the biggest redwoods and best trails, but it's really busy.
** Little Basin Cabins and Campground (12 cabins, 37 drive-in sites)
Although it's in Big Basin Redwoods, Little Basin used to be a privately-owned retreat for Hewlett-Packard employees and feels a lot different than the other state park campgrounds.
* Sempervirens Campground (31 drive-in sites)
Sempervirens Campground is set among fairly impressive lowland redwoods, but its campsites are the most densely-packed in Big Basin.
Backpacking campgrounds

---
**** Lane Trail Camp (6 backcountry sites)
If you want to go backpacking in Big Basin Redwoods State Park but want to camp somewhere quiet and secluded, Lane Trail Camp will probably be involved. It's a nice backcountry camp on a rather dry-looking wooded ridge.
**** Twin Redwoods and Alder Trail Camps (6 backcountry sites)
Twin Redwoods and Alder are attractive trail camps about two miles from the Waddell Beach end of the Skyline-to-the-Sea Trail.
*** Sunset Trail Camp (10 backcountry sites)
Sunset Trail Camp's prime location by the scenic chain of Berry Creek waterfalls has made it the most popular backcountry campground in the Santa Cruz Mountains. It's an attractive camp, but it's crowded and the sites are really close together.
** Jay Trail Camp (6 hike-in sites, 2 bike-in sites)
Intended for backpackers hiking the Skyline-to-the-Sea Trail, Jay Trail Camp is right in the middle of the busiest and most developed part of Big Basin Redwoods, but it can be a refreshing break from the trail.
Getting to Big Basin

---
From the Bay Area, the most popular way to reach the Big Basin park headquarters is to take Highway 17 from Los Gatos to Felton, then Highway 9 to Boulder Creek and Route 236 to Big Basin. An alternate route is Big Basin Way (Route 236) south from Saratoga. This way is shorter but it's also narrow and twisty, so unless highway 17 is clogged with summer beach traffic the two routes will take the same amount of time.
Parking in the park headquarters area now costs $10.00 per car. The park has a gift shop (closed in December and January) that also offers sandwiches, chili, and ice cream. The nearest grocery store, gas station, and drugstore is in Boulder Creek.
Related websites

---
Weather
Trails
Printed and iPhone/Android maps of Big Basin are available from Redwood Hikes Press. They are the same as the maps on this website, but without the greyed-out trails.
A free park brochure containing a map is available at the park and online. This map is much smaller and less detailed than the other trail maps of the park.
BAHiker.com has great descriptions of the Berry Creek Falls and Buzzards' Roost hikes.
Group hikes
Food
The park store has a snack bar that's only open in the summer and fall.
If you're willing to drive 25 minutes for real food, you can get a beer and a hearty German dinner on the Tyrolean Inn's redwood-shaded patio in Ben Lomond.
If you're returning from Waddell Beach, the West End Tap and Kitchen in Santa Cruz is good.
Other
---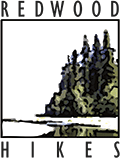 © 2006–2018 David Baselt